2017 AXIOM MEDALIST & PRESS PAGE
Jenkins Group is proud to announce the winners of the 10th annual Axiom Business Book Awards. These gold, silver and bronze medal-winning books make up an incredible reading list - an informative and entertaining list that represents a wide range of business topics, created by a diverse collection of authors and publishers.
Below is the official 2017 Axiom Awards press release, followed by helpful links and information for medalists and press.
Thanks to all participants for supporting the Axiom Business Book Awards!
---
FOR IMMEDIATE RELEASE
2017 Axiom Business Book Award Winners Announced:
Medalists Implore Businesses to Get Connected with Customers and Workers
(Traverse City, MI, Feb 22, 2017) Technology is changing the way we live, work and play, from the interactive wristbands that replaced tickets at Disney World, to Amazon's Alexa ordering you a pizza or an Uber ride. The "gig economy" -- workers who are not employees and work when and where they need to -- has grown to over 50 million people and contributed over $7 billion to the economy in 2015. The World Economics Forum predicts that over 5 million jobs will be lost by 2020 due to "developments in genetics, artificial intelligence, robotics, and other technological changes." How does a savvy business person keep up? By reading award-winning business books!
Jenkins Group is proud to announce the winners of the tenth annual Axiom Business Book Awards, honoring the best business books published during the past year. The medal-winning books epitomize the Axiom Award motto, "Success through Knowledge," by offering the latest information to help business people succeed in a fast-changing world. See the complete results listing online at http://www.axiomawards.com/77/award-winners/2017-winners.
"The future is happening now," begins silver medal-winning The Future Workplace Experience (McGraw Hill Education), and after listing the employment statistics above, warns companies "that do not adapt, that do not anticipate the future and take action, are in danger of irrelevancy -- or worse, extinction." The authors go on to recommend embracing not only technology, but building "a new workplace intelligence" with a multicultural, multigenerational, and gender-equal workforce.
"Today's leading organizations are network-centric and are creating remarkable economic returns by capitalizing on network advantages," explains gold medalist The Network Imperative (Harvard Business Review Press), listing these examples: "co-creation with their customers (Facebook); digital platforms (Amazon); shared assets (Uber and Airbnb); and big data insights (Netflix and Google)." The book goes on to define ten principles and five steps to pivot toward networking success, with ideas such as moving from "physical to digital," "customers to contributors," and "employees to partners."
What is driving all this change, all this networking, all this "connectedness"? Why, the smartphone, of course. And according to Tim Wu, author of the gold medal-winning The Attention Merchants: The Epic Scramble to Get Inside Our Heads (Knopf), technology now allows us to avoid ads on the T.V. screen, but our smartphone screen is where advertisers reach us -- and try to control us. "If we desire a future that avoids the enslavement of the propaganda state as well as the narcosis of the consumer and celebrity culture, we must first acknowledge the preciousness of our attention and resolve not to part with it as cheaply or as unthinkingly as we so often have," says Wu. "And then we must act, individually and collectively, to make our attention our own again, and so reclaim ownership of the very experience of living."
This kind of wisdom is what the Axiom Awards strive for, and all 76 of the medalists, chosen from nearly 500 entries, have some insight or advice to offer the inquisitive business person. This year's medals went to publishers and authors representing 17 U.S. states; 2 Canadian provinces; the United Kingdom, Germany, Australia, and Switzerland, a blend of established New York publishers, university presses, and independent publishers of all sizes.
"Business success demands that business leaders embrace the future and keep learning and growing," said company founder Jerrold Jenkins. "This year's Axiom Award-winning books offer not only great ideas, but an imperative to create change."
Learn more about the Axiom Awards at http://www.axiomawards.com.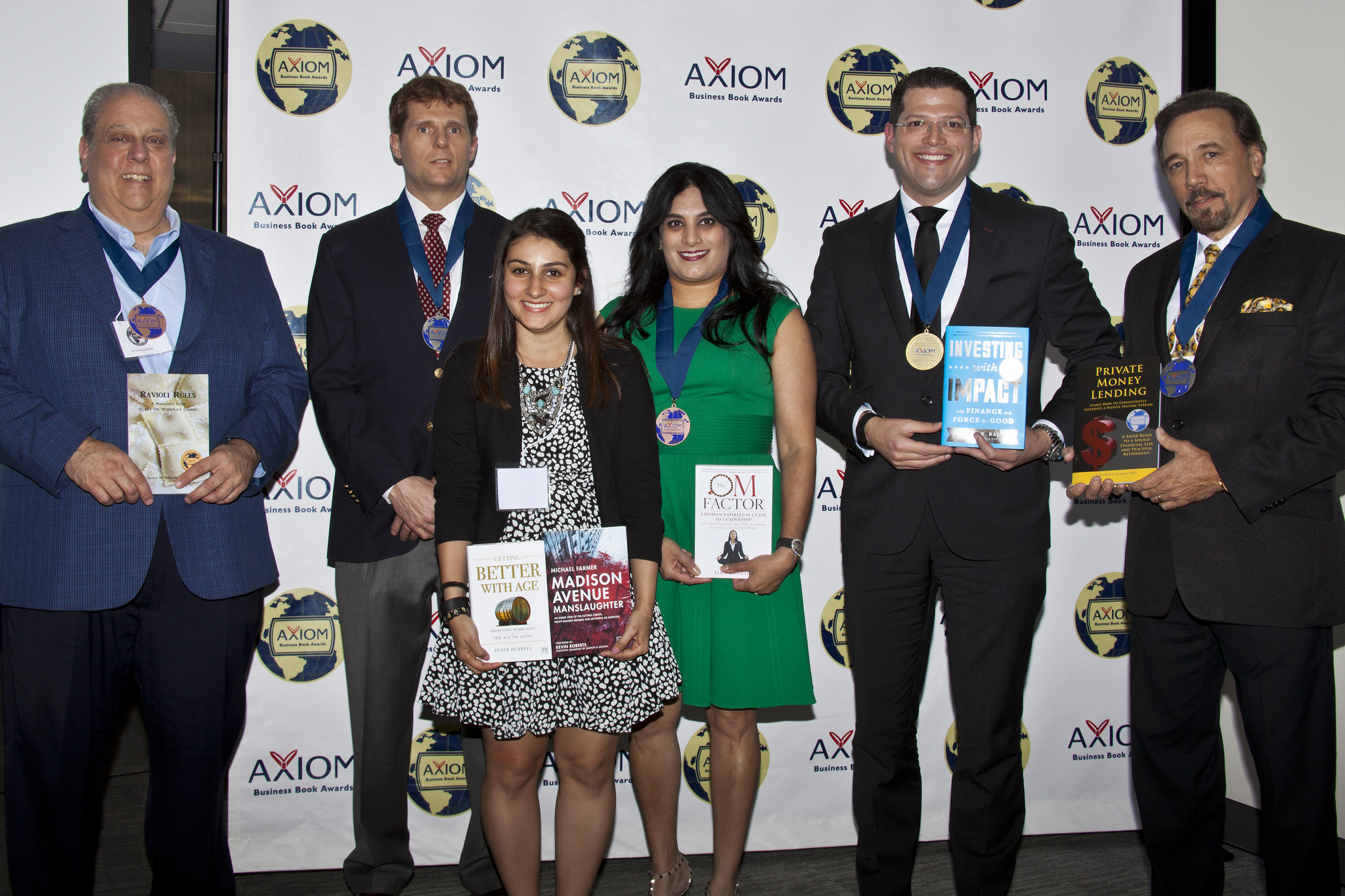 The 2016 Axiom Medalists at the ceremony in Chicago.
- END -
---
IMPORTANT AXIOM AWARD LINKS
Axiom Awards merchandise page:
http://www.jenkinsgroupinc.com/store/index.php?p=catalog&parent=3&pg=1
- Seals are available in rolls of 250 and 1000
-You may order additional certificates with customized wording.
-Hi-res versions of the seal artwork are available for reproducing on book covers and promotional materials
Axiom Awards logo artwork:
http://www.independentpublisher.com/includes/axiom1.jpg
Axiom Gold medal lo-res artwork:
http://www.independentpublisher.com/includes/axiomgold.jpg
Axiom Silver lo-res artwork:
http://www.independentpublisher.com/includes/axiomsilver.jpg
Axiom Bronze lo-res artwork:
http://www.independentpublisher.com/includes/axiombronze.jpg
Axiom Bookstore: http://www.axiomawards.com/79/2017-medalist-bookstore
Axiom Program: http://axiomawards.com/includes/2017Axiom_Awards_Program.pdf
2016 Ceremony Photos: https://flic.kr/s/aHskwsiwqh
---
AXIOM AWARD BLURBS
"The Axiom Business Book Awards are intended to bring increased recognition to exemplary business books and their creators, with the understanding that business people are a very well-read and informed segment of the population, eager to learn about great new books that will inspire and inform them, and help them improve their careers and businesses."
"The Axiom Awards are presented by Jenkins Group, a Michigan-based book publishing and marketing services company that has operated the popular Independent Publisher Book Awards contest since 1996. Founder Jerrold R. Jenkins is the author of three books on the business of publishing: Inside the Bestsellers, Publish To Win, and The Independent Publisher: How to Build and Promote Your Best-Selling Book."